Barrel Tasting Weekend in Livermore Valley
March 10, 2018 @ 12:00 pm

-

March 11, 2018 @ 4:30 pm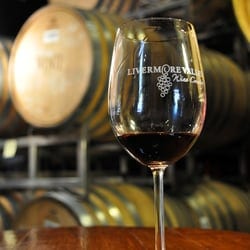 Livermore Valley's storied wine country has some new neighbors — craft breweries and artisan distilleries—and now there's even more to celebrate in wine country. The same quality, attention and care dedicated to the winemaking process, similarly can be found in the regions craft brew and artisan spirits.
Wineries
: 3 Steves Winery, Bent Creek Winery, Big White House Winery and John Evan Cellars, BoaVentura de Caires Winery, Cedar Mountain Winery, Charles R Vineyards, Concannon Vineyard, Crooked Vine & Stoney Ridge Winery, Cuda Ridge Wines, Dante Robere Vineyards, Darcie Kent Vineyards, Eagle Ridge Vineyard, Ehrenberg Cellars, Eckert Estate Winery, eL Sol Winery, Fenestra Winery, Garré Vineyard & Winery, Las Positas Vineyards, Leisure Street, Longevity Wines, McGrail Vineyard & Winery, Mitchell Katz Winery, Murrieta's Well, Nottingham Cellars, Omega Road Winery, Occasio Winery, Page Mill Winery, Paulsen Wines, Retzlaff Estate Winery, Rodrigue Molyneaux, The Singing Winemaker, The Steven Kent Winery, Vasco Urbano Wine Co., Wente Vineyards, Winemaker's Studio, and Wood Family Vineyards.
Distilleries
: Sutherland Distilling and Eckert Estate Winery & Artisan Spirit Distillery
Breweries: Working Man Brewery and Beer Baron Livermore
1 ticket, 2 days–Tickets are good for Saturday & Sunday!   
Click here to view the wines, beers, and spirits being poured, along with additional activities!
Painted Barrel Trail:
  Wineries are partnering with local Bay Area artists to showcase the first annual Painted Barrel Trail! Teams of winemakers and artists are collaborating to create beautiful and unique wine barrels that will be displayed at the wineries for guests to visit. Over a period of 6 weekends, guests can follow the Barrel Trail, sample great wines, and admire the original artwork of the barrels. The barrels will be on display starting February 1
st
through the event weekend; March 10-11. Visitors will also have the opportunity to participate in a Painted Barrel Raffle, and bring a one of a kind barrel into their home, along with a case of wine. You can purchase raffle tickets in the participating winery tasting rooms, or in the Livermore Valley Winegrowers Association's office starting in February.Raffle Tickets: $20 each, or 6 tickets for $100.
Barrel Tasting Brunches:
Preceding Saturday and Sunday's Barrel Tasting experience, five of our member wineries will partner with local restaurants and caterers to host a weekend of Barrel Tasting Brunches! Join in on the fun and mingle amongst friends, while enjoying a pleasant and delicious midday brunch in beautiful wine country. Brunch menu's coming soon.
Saturday the 10th Brunches:
Las Positas Vineyards hosting with Zephyr Grill & Bar
Garré Winery hosting with Garré Café
Sunday the 11th Brunches:
Retzlaff Vineyards hosting with Salt Craft
Ehrenberg Cellars and The Singing Winemaker hosting with Liberation Foods
Brunch ticket prices and other information coming soon!