Holiday Sights & Sounds Parade in Downtown Livermore
December 7, 2019 @ 6:00 pm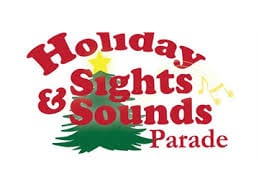 Over 50 floats, including our local businesses, clubs, Marching Bands, Associations and much, much more! The Parade ends with that Special Guest, Santa himself, leading our community in the Official Tree Lighting!
"Hi everyone,
Great news! We have opened up registration for this year's parade! Thank you ahead of time for reading the entire message below. We promise that all of the information is important.
As you may or may not know, this year we are partnering with Event Hub to streamline our event management. This will make communication and managing your entry much easier. Don't worry – there will be no additional charge for you!
To book your spot for this year's parade, follow these steps:
Click this link to go to our Showcase Page on Event Hub: https://eventhub.net/events/Livermore-Holiday-Sights-and-Sounds-Parade_1649
Add the entry type that applies to you to your cart from the Opportunities Box then click Proceed to Checkout
You will be prompted to create an account. Then, you can continue through checkout.
*During checkout, you will be prompted to add "booth" information. Don't worry! We know that you aren't booking a booth space. You can use the name of your entry wherever it says "booth" instead!*
Submit your order! Note: Your payment will be processed when we approve your order. Until then, it will appear as an authorization on your account.
Click this link for a tutorial on submitting your order:
How to Find an Event in Our Marketplace and Submit an Application
Once your entry is confirmed, you can sign and send your liability waiver, access your invoice, send us messages, and view your logistics all from your Order Summary. This tutorial will show you the possibilities: Manage Your Orders
Looking dforward to celebrating the holidays with all of your creative and entertaining floats!!
If you get stuck or have questions, don't panic! Kylie on the Customer Success Team at Event Hub is available to you to answer your questions and help you get started on their platform. If you need help, don't hesitate to reach out to her at help@eventhub.net."