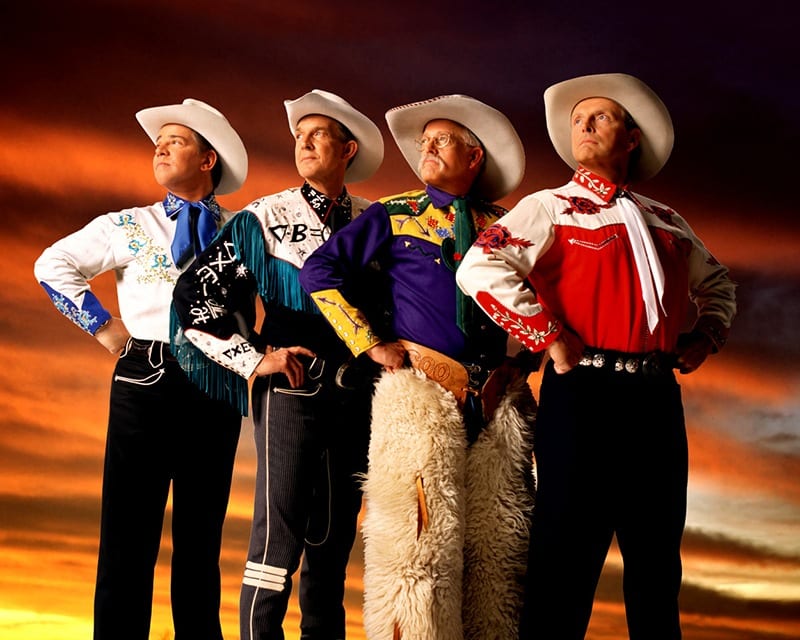 For three decades, Riders In The Sky have kept alive the musical flame passed on by Gene Autry and Roy Rogers. Revitalizing the genre, they retain the integrity of Western music while branding it with their own wacky humor and way-out Western wit. "Woody's Round-Up" from Disney's Toy Story 2 made them the only western band to win a Grammy Award, an honor they have achieved twice. Whether sharing their music on stage, on the radio or on the road, the Riders enthusiastically live life "The Cowboy Way."
Known as "America's Favorite Cowboys," the Riders In The Sky hold true to the tradition and spirit of Gene Autry and Roy Rogers, while adding their own down-home country charisma and comedic flair. More than thirty years after their first appearance in Nashville, the original members are still together, revitalizing classic cowboy music while amusing audiences – and each other – with their wacky sense of humor. Their take on much-loved songs, from "Tumbling Tumbleweeds" to "Home on the Range" and "Rawhide," have met with enthusiastic audiences in all 50 states. They have played in every type of venue, from county fairs to Carnegie Hall, and were part of the Bankhead Theater's inaugural season in 2008.
All that glitz and glamour hasn't changed the rhythms of Riders In The Sky or its members, guitarist Ranger Doug, bass player Too Slim, accordionist Joey "the CowPolka King," and fiddle player Woody Paul, whose voice – and special gift for yodeling – helps bring them all together. The Riders are always ready to saddle up and ride the never-ending trail, bringing good beef to hungry people.