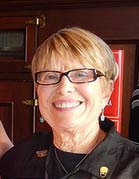 It was half my life ago when I met this incredible woman. She changed my life forever. I've worked for her, lived with her more than once, and we remain great friends and traveling buddies to this day.
Tri-Valley native Judy Ashworth's "Farewell to Bud" party in 1986 made famous today's multi-tap establishments serving only craft beer, no national brands. Judy's contribution to promoting the public understanding of beer has earned her the titles: "The Grand Dame of Publicans," "Beerological Mother," "Bay Area Beer Ambassador" and "Beer Missionary," among others. The pub was Lyons Brewery Depot, originally located in the old frontier town of Sunol and later in suburban Dublin.
SUNOL
Lyons Brewery Depot Sunol was built in the late 1860s by Charles Lyon, who operated a breweryin Hayward. The Depot was where Western Pacific Railway workers unloaded kegs of Lyons beer to be delivered throughout the Livermore Valley. Eventually the brewery closed, but the depot housed many shops then finally a pub—actually a longneck Bud bar.
Judy acquired the pub in 1983 and soon after met Pleasanton resident Bob Hufford, an avid homebrewer. He introduced her to styles, tastes, and the blossoming microbrew scene. Judy became so devoted to this new beer renaissance she decided to discontinue Budweiser and replace it with Lighthouse Lager from Santa Cruz Brewing Company. The general consensus was that she'd fail by deviating from the mainstream. Nineteen taps included every product from San Francisco's Anchor Brewery plus offerings from many of Northern California's other 20 breweries. Judy would have to drive miles to pick the kegs up herself.
Over the next five years Judy began judging nationally at events like California State Fair and Great American Beer Festival. She became the California Representative on the Board of Advisors for the Association of Home Brewers. She conducted "Lessons in Beer" to visiting tour groups, and created a "Connoisseurs Club" for customers to track beers consumed. Judy also voluntarily banned smoking at the bar before it was law. "The smell of smoke masks the fragrance of the hops and complexities of the malts," she said.
It was a tragic day two days before Christmas December 1987 when a fire that began in a feed store next door burned the pub to the ground. Gone were the antique mirrored bar, steam beer cabinet, and many old pictures, including one of Charlie Chaplin leaning against the bar while he was filming in the area. A regular customer and hop harvester who lived in a home built in Pleasanton in the early 1900s had planted some original Pleasanton hop rhizomes at the back of her pub. Luckily these had been off-sourced over time to a handful of local folk who continue to use these in local homebrews and specialty ales in some breweries. (My house sits atop the original location of Pleasanton Hop Company, according to a 1907 map of the planned canal system, and my hops grow like weeds!)
Bay Area brewers couldn't believe the beloved pub was gone and spearheaded a fundraiser to help Judy re-open in a new location. Loyal patrons were cooling their heels in Dublin less than a year later.
DUBLIN
At twice the size, the new Lyons Brewery of Dublin featured a beautiful 62-foot mahogany bar and was thoughtfully built from the walk-in beer cooler outwards to showcase the amazing talents of the craft beer brewmasters. Unique features included only 3/4″ of unrefrigerated line from the cooler to the thirty taps. Dual temperature was maintained to keep stouts, porters and barleywines warmer than the lagers and pale ales. Judy was extremely proud of pushing her beers on nitrogen rather than the more common CO2, and she made the nitrogen herself with a reverse osmosis machine.
In this much larger location Judy created events such as the much-copied Christmas in July, Meet the Brewer nights, Stout & Chocolate Festivals, and The Brew Dudes Fashion Show. Brewers came from all over Northern California to participate in whatever festival she conjured up.
She had a knack for inventing blended beer concoctions, many with Anchor Old Foghorn Earleywine as the star. I remember some favorites at the time: When mixed with Sierra Nevada Pale Ale it was a "Foggy Night in the Sierras," with Apricot Ale from San Andreas Brewery "Lost in the Orchard Again," and combined with Anchor Liberty "Paul Revere's Last Ride." Beer cocktails are tremendously popular nowadays and Judy has been credited in many publications as a pioneer in the blending of microbrewed beers.
In 1998 tragedy struck again when she suffered a cardiac arrest. "I saw the light at the end of the tunnel, but it was a Bud Light, so I turned back," she's famously quoted as saying. "If that's all they're serving in heaven then I ain't staying there." Her health, however ,forced her to sell, and though her friends are all thankful she's still with us, we miss Lyons Brewery terribly. Many brewers have credited Judy with their beer epiphanies. Her passion and enthusiasm for this industry has inspired many, and we have seen a growth of craft beer pubs over the years with owners and managers sharing her visions.
You can still find Judy at any given time on a barstool talking beer with the Publicans and their patrons. As I write this article I wonder where I'd be now if it weren't for Judy convincing two young writers to move from Canada to California in 1987 and publish the nation's first-ever beer newspaper.
By Julie Nickels
---
Julie Nickels is the Founding Co-Publisher of the California Celebrator (now a nationwide beer magazine titled Celebrator), and a longtime Tri-Valley resident and Beertender.