Go beyond pretzels and beer can chicken! Try these recipes to bring out your inner culinary creative.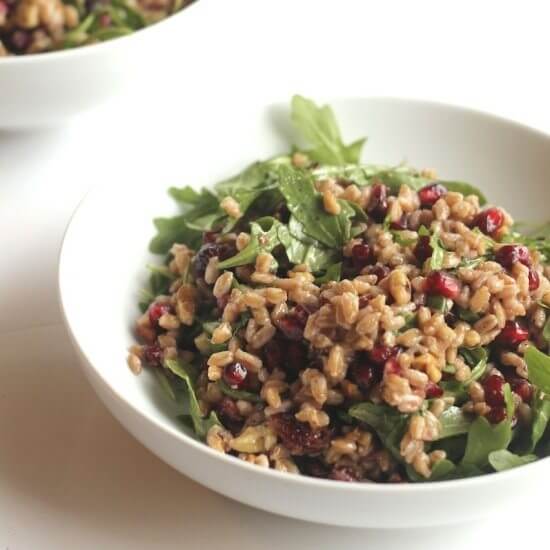 Red Ale Farro, Roasted Asparagus, Pomegranate and Goat Cheese Salad
Ingredients:
1 cup whole farro
12 oz. Eight Bridges Twisted Red Ale
½ cup chicken broth
1 lbs. asparagus, tripped and chopped into one-inch sections
2 tbs. olive oil
1 tsp. salt
1 tsp. pepper
½ cup pomegranate seeds
1 cup baby arugula
3 oz. goat cheese
Directions:
Add the farro, beer, and broth to a pot over medium high heat. Bring to a low
simmer. Simmer until farro is tender but not mushy, about 20 minutes. Drain off any
remaining liquid. Preheat oven to 400 degrees. Add the asparagus to a baking sheet, drizzle with olive oil, sprinkle with salt and pepper, toss to coat. Roast asparagus at 400 until fork tender, about 8-10 minutes (less for thin asparagus, you still want some firmness, it's best to under cook rather than overcook). Add the farro, asparagus, remaining ingredients to a bowl, toss to combine. Serve at room temperature.
Stout Braised Lamb
Ingredients:
4 1/2 lb. lamb shanks
Salt and freshly ground pepper, to taste
4 tsp. vegetable oil
24.5 oz. Working Man Brewing C'est Noir Stout
Assorted root vegetables
Chopped fresh flat-leaf parsley for garnish
Directions:
Season the lamb shanks with salt and pepper.
In the stovetop-safe insert of a slow cooker or in a large sauté pan over medium-high heat, warm 2 tsp. of the oil until almost smoking. Add half of the lamb shanks and brown on all sides, about 6 minutes total. Transfer to a large plate.
Warm the remaining 2 tsp. oil in the insert or pan and brown the remaining shanks. Add the reserved shanks to the insert and place on the slow-cooker base. If using a sauté pan, transfer the shanks to a slow cooker. Add the braising base, cover and cook on low according to the manufacturer's instructions until the meat almost falls off the bone, about 5 1/2 hours.
Transfer the lamb shanks to a platter and arrange the glazed root vegetables alongside. Cover loosely with aluminum foil.
Skim the fat off the braising sauce and pour some of the sauce over the shanks. Garnish the shanks and vegetables with parsley. Transfer the remaining sauce to a sauceboat and pass alongside. Serves 6 to 8.
IPA Lemon Bars
Ingredients:
Crust:
1 cup flour
1/3 cup powdered sugar
6 tbs unsalted butter
Pinch salt
Filling:
3 large eggs
1 ½ cups sugar
¼ cup flour
2 tbs corn starch
1/3 cup freshly squeezed lemon juice
¼ cup Altamont Beer Works Maui Waui
Powdered sugar for dusting
Directions:
In a food processor add the flour, powdered sugar, butter and salt. Process until well combined. Press into the bottom of a greased 8×8 pan (for a 9×13 pan, double the entire recipe). Chill for 15 minutes.
Preheat oven to 350 degrees. Bake at 350 for 20 to 25 minutes or until golden brown. Remove from oven and allow to cool to about room temperature, about 15 minutes (this will help the crust and the filling to stay in two distinct layers.)
In a large bowl whisk together the eggs, sugar, flour and corn starch. Add in the lemon juice and beer. Stir until combined. Pour the filling over the cooled crust. Bake until the center has set, about 20 to 25 minutes. Allow to cool slightly before refrigerating. Chill for 2 to 3 hours before cutting. Dust with powdered sugar before serving.