Some of the best parts of Livermore Valley Wine Country are the many backroads of this region that lead to beautiful vistas and off-the-beaten track wineries. As Jim Morrison perfectly summed it: "The West is the Best!"
Livermore Valley's Arroyo and Wetmore Roads consist of Cuda Ridge Wines, Las Positas Vineyards, Dante Robere and Fenestra. These vineyards got more in common than mere geography: award-wining mines striving to focus exclusively on grapes grown in the Livermore Valley. Though, interestingly, Fenestra has always drawn interesting varieties from Lodi.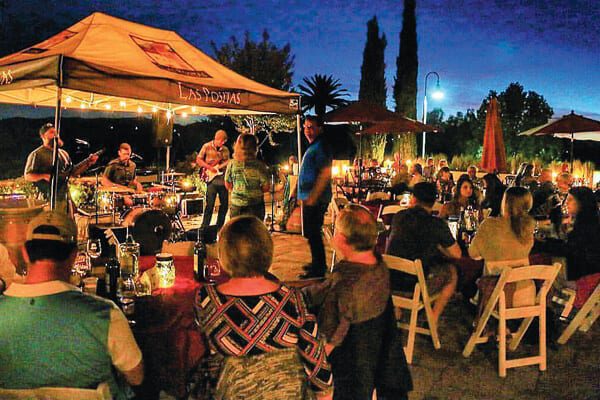 CUDA RIDGE WINES made a name for itself over the years for its outstanding Cabernet Franc and Petit Verdot, and rightfully so. A testament to owners and operators Margie and Larry Dino. The 2013 PV is totally top drawer but to ignore their 2012 Merlot – a wine of great presence, electricity and inner strength, or the new 2012 Cabernet Sauvignon, aged for 30 months in new French oak – would almost be sinful! The new reserve wines are resplendent in their new white label packaging.
DANTE ROBERE offers a relaxed, comfortable setting amidst it's gorgeous architecture and delightful grounds. Truly a hidden gem in Livermore Valley. After making wines at Eagle Ridge for a few vintages, they're happy to be in their own capacious digs. Their 2014 Estate Syrah is a 2017 SF Chronicle Wine Competition Gold Winner. Don't miss their 2014 Dante's Inferno, a GSM with an emphasis on Syrah for a fiery burst of blueberry and strawberry. It has also garnered 91 points with Wine Enthusiast.
One of the reasons to visit LAS POSITAS VINEYARDS, owned by Lisa and Lothar Maier since 2006, is the excellent long-range vineyard views that captivate you from the outdoor seating area. You won't want to leave! Inside, grab a glass of the 2014 Verdigris, a refreshing white blend of Verdelho, Pinot Gris and Pinot Blanc or the 2013 Tempranillo, a seriously tasty combo of tobacco, chocolate and spiced plum. Winemaker, Brent Amos, is dedicated to the marriage of Old World craftsmanship and New World pioneer spirit.
Winemaker Aaron Luna of FENESTRA WINERY is making it his mission to acquire more Livermore fruit, particularly from Ghielmetti and Thatcher Bay vineyards. The 2012 Infrared and the 2009 Conjugation (Bordeaux blend) are excellent, and the sassy 2012 Tempranillo received a double gold (98 points) and was named Best of California and Best of Region at the California State Fair in 2015. Fenestra's grounds surrounding the tasting room offers a lovely creekside setting amongst their estate vineyards.
SIDE NOTE: Due to road construction on Vallecitos Rd, visit Fenestra's website to see directions from Hwy 580 and 680 to their driveway.
If you're looking for something new beyond Napa and Sonoma or need a break from Outlet shopping, head west young man into Livermore Valley's Westside Wine Trail!
Click map to enlarge and print:
Please follow and like us: