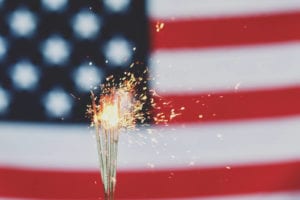 Whether it's an elaborate firework show or a parade that's been held since 1975, the Tri-Valley knows how to celebrate America's Independence.
Pleasanton
Make your way over to the Alameda County Fair's Fireworks Spectacular! The show is set to begin at 9:30pm. and there's no bad seat in the house. Keep in mind that after 6pm the doors will close, so no new tickets will be sold and no reentry (even with hand stamps) will be permitted. Enjoy some fair fun, have a bite to eat and make sure to stick around the see the sky light up.
Danville
Although there will be no fireworks, you won't want to miss The Annual Kiwanis 4th of July Parade. The parade starts at 9am, but you'll want to get there early to lock down your spot. The experience will take you on a journey back to America's yesteryear and fill your heart with pride for the red, white and blue. A tradition since 1975, the celebration lives on.
Livermore
Join the Livermore Valley community for the annual Red, White and Boom Fireworks Celebration. The block party starts at 4pm and the fireworks will launch at 9:20pm. Roads will be closed and traffic delays will occur, so make sure to plan accordingly.
Happy Fourth of July weekend everyone, enjoy the celebration and stay safe!