Are you ready to shop 'til you drop?
The San Francisco Premium Outlets is California's largest outlet mall, hosting 180 designer and brand-name outlet stores and serving millions of shoppers from around the world every year. But for those who opt for smaller shops over chain stores, you're in luck. Tri-Valley is also home to several locally-owned boutiques offering a variety of trendy, one-of-a-kind pieces.
So, for those special shoppers out there, we put together a Tri-Valley boutique shopping guide featuring our favorite boutiques in the area. Take a peek at our best boutiques below!
Pleasanton
Located just off Main Street in Pleasanton, visiting Girlfriends Boutique feels just like any other day shopping with your friends. Created for the savvy, fashion-conscious woman, the Girlfriends Boutique offers an affordable shopping experience for their customers. Focusing on boho-chic styles, their Instagram account keeps their galpals in the loop by consistently posting their newest shipments. 
Phone: 925-484-9111
Check in with family and friends before stepping into this store because they may not hear from you for a while. Prim Boutique also sits on Main Street in Pleasanton, making it easy to enjoy lunch and a few cocktails in-between your shopping sprees. This adorable shop sources trendy bohemian clothing, shoes, swimwear, and accessories. But the fun doesn't stop there – if you can't get enough of their storefront collection, they sell additional styles on their website. They even provide free shipping on all orders! Prim's owner, Marissa "Missy" Ringman, has owned Prim since 2013 and from the looks of it, they'll be a part of the Tri-Valley for a while. Pro-tip: Got Kids? Check out Prim Pop, Prim's affiliate children's clothing store, just down the road!
Phone: 925-399-5648
You might've seen this adorable boutique on the highway in their souped-up vintage Airstream because these deals are on wheels! Besides setting up shop in Pleasanton, the Gypsy Boutique also frequents flea markets and farmers' markets, sharing their incredibly unique, feminine pieces with others around California. When this boutique isn't on the go, patrons have been known to travel all across the Bay to visit this Tri-Valley gem. In addition to carrying sizes 0-3X, the Gypsy Boutique also carries an assortment of jewelry, shoes, and accessories! Pro-tip: Due to their traveling schedule, check their Facebook for store times!
Phone: 925-819-1166
This locally-owned boutique in Pleasanton is easy to get to and has ample parking, but just in case you don't have time to visit in person they offer shipping to their customers! Lauren's Boutique features fashionable pieces that are girly yet distressed. Their edgy collection varies from comfy loose fitting sweaters to feminine floral blouses. Check their Instagram for newest arrivals!
Phone: 925-523-3031
Locally owned and operated with 10 locations around the Bay Area, the Pleasanton storefront is the only Therapy shop established in the Tri-Valley. Originally an antique furniture store located in San Francisco, the Therapy stores have grown exponentially to include a variety of unique gifts, clothing, and accessories. The boutique chain boasts its diverse inventory, carrying designers like HOBO, Nixon, Free People, Obey and RVCA. Pro-tip: Therapy's website is currently under construction, check out their Facebook to stay up-to-date on sales.
Phone: 925-931-0545
Livermore
Located in Livermore, Rustic Beauty brings out a chic side of the town's historically Western charm. Defining themselves as fun, funky and fashion-forward, this boutique has made its home in the Tri-Valley since 2010, moving from a mobile business into its current storefront in 2014. Receiving multiple new shipments a week, the Rustic Beauty team works hard to source edgy bohemian styles directly from the manufacturers and consistently deliver fresh new styles to their customers. Pro-tip: See something to-die-for on their website and need to have it? Rustic Beauty offers free shipping and in-store pickup!
Phone: 925-583-5455
Dublin
Out of all of the Tri-Valley's local boutiques, Three Bird Nest is the only one you can shop at 24/7! This location has recently closed, but you can shop their adorable products on their website. Originally a one-woman shop out of Livermore, CA, 3BN became one of Etsy's fastest growing shops by selling handmade bohemian styled headbands and accessories.
Danville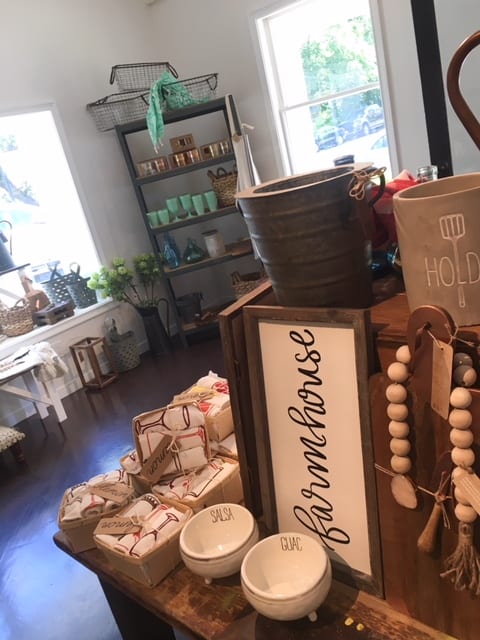 Lemon in Danville is a haven for unique gifts and home decor items, as well as the highest quality clothing and toys for babies and toddlers. Come here for chic, funny, and Pinterest-worthy finds in this fun store that aims to stock locally-made, organic products. Adorn yourself in adorable accessories, or deck your kid-family members out in stylish threads that read "I know guac is extra" and "Party Animal". Pro-tip: Lemon offers super cute gift wrapping  year-round!
Phone: 925-818-2483
Truly repping their community, Bliss Danville sources specially made local items. From wood-burned "Danville, CA" ornaments, to California Flag beanies, this boutique offers an authentic Northern California experience. In addition to cute gifts and trendy threads, the boutique also hosts events like girls nights out, book clubs and school fundraisers. Pro-tip: Don't leave your pup at home, this boutique is pet-friendly!
Phone: 925-964-3804
Ella J. is a downtown Danville staple, sampling girly, boho and even rocker styles. Known for their comfortable yet chic looks, it's no wonder this little boutique has been in business for over 15 years! Ella J. prides itself on carrying items and labels of all price points, acknowledging that some days you can splurge more than others! The best part of this little shop is the ability to buy and put certain items on hold via Instagram – check out their Instagram for real-time virtual shopping! Pro-tip: Need help in the morning figuring out what to wear? Ella J.'s Instagram posts a #FlatLayOfTheDay, providing you with daily fashion inspo!
Phone: 925-820-8367 
Cottage Jewel is a colorful boutique chock-full of one-of-a-kind antique, vintage and artisan wares from practical to purely fanciful. They're more an artist's treasure trove of inspiration than a formal antique boutique, and offer killer classes for crafters. Pro-Tip: Owner Marcia Harmon has been curating fabulous finds for over 20 years and knows the history behind every piece in the shop and if you are looking for a particular vintage item, she will use her resources to help you find it!
Phone:925-837-2664
Flaunt is known for its unmatched customer service, curated selection, and community involvement. Owned by Ashley Stringfellow and located in downtown Danville, Flaunt has been a part of the Tri-Valley community for over 13 years. Ashley attributes the store's impeccable selection to decades spent attending fashion week multiple times a year in Paris, New York City and Los Angeles. The result? An inventory made up of established and up-and-coming brands including Raquel Allegra, Ulla Johnson, Mother denim, Monrow, Smythe, Pam and Gela and more. Pro-tip: Parking in Downtown Danville can be dicey, snag a spot in the Front Street Parking Lot and save yourself a headache.
Phone: 925-831-9923
Established in 1991 and located in the heart of Blackhawk Plaza, Alina B. features unique fashion that is manufactured and brought to the Tri-Valley from Europe by Alina herself. The chic boutique emphasizes quality fabrics and an exquisite fit. Alina and her employees provide an enjoyable shopping experience, helping you find the perfect outfit for any occasion. Pro-tip: Need some pampering? Kill two birds with one stone and get your nails done at Polished Nail Bar after you're done shopping.
Phone: 510-928-7549